Listen to the album:

Originally released in 2006, Circumstances of the Present World is Fabien Polair's second solo album following Fab Cigar Collection released in 1996.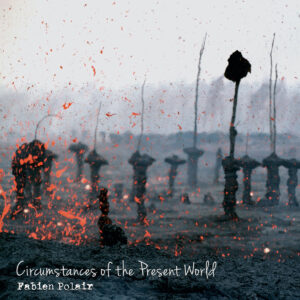 The themes of that pivotal album range from personal (Boredom, LovEx) to universal: global warming (Nature on the Run), the alienation of our consumer society (Force-Feeding, World Gone Daft) or the pressing influence of the media in our lives (Media Stupid Fella).
The opening track World Gone Daft references events from the late 90's and early 2000's: police violently removing migrants from churches in France, 9/11, 7/7 or the IKEA riot.
The 2021 edition of the album comes with a reshuffle of the opening track World Gone Daft, a new mastering of the whole album and a brand new cover artwork.
What Katie Probert from Subba-Cultcha wrote at the time: "Covering a range of present day topics of the shortcomings of our world, Polair speaks out about politics, religion, ideas and ways of thinking, channelling his message through powerful and often moving, intelligent music (…) Polair is the voice of a generation, speaking out against the system, and he urges you to reflect on this too."
TRACKLISTING
01. World Gone Daft 02. Abberhalis 03. 466 64 04. Force-Feeding 05. Politics & Religions 06. LovEx 07. Nature on the Run 08. Media Stupid Fella 09. Boredom 10. Show is Over
Listen to the album:

Videos: