Listen to the album:

In 1996, following the split of his indie pop band UNAWARE, Fabien Polair decided to set himself free from all constraints of group writing and start working on a solo album in French.
He wrote and recorded 12 songs on his 4-track tape recorder within 2 months, just before leaving for the UK for a year. 10 of these songs made it onto the album Fab Cigar Collection.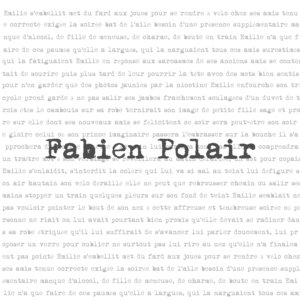 The album is very much a snapshot of 2 crucial years of his life, both from a musical and personal perspective, inspired by seminal classic French pop albums 'La Fossette' by Dominique A or Miossec's 'Boire'.
Miossec's alcohol-induced prose is perceptibly referenced on opening track Aphone De La Nuit. 'Turning yellow with anise' Polair sings in connection to past late night drinking.
'Our midnight conversations (…) are just a long-gone memory' states Polair detachedly earlier in the song and we immediately understand that this whole affair marks the end of an era for the artist and a potential new beginning, a sentiment echoed in the song René when he intones 'my bubble is burst, I feel liberated – from a tight education that nearly stifled me'.
But starting afresh is not so easy: there's clear question marks and fears about his future in the music business on L'Avariete when he asks ironically 'what if I lost myself in success, if vanity hit me in the head?'. In this song, he takes aim at all the poseurs of French and international pop music.
On this album, Polair also touches on politics and appears at war with conformism and the rise of everyday racism on Aussi Tragique Que L'Enfer (Tragic as Hell). Polair will delve deeper into these themes 10 years later, in his cathartic album Circumstances of the Present World.
'Nothing's more mind-dumbing' sings Fabien 'than elevating one's giblets to broad daylight' on Sale Matin. The cheerful summery riff of the song contrasts with its existentialist lyrics and charge on the society of appearances; it questions the idea itself of playing a role in society.
Émilie's lyrics indulge in caustic irony on a background of distorted guitars while album finisher Panne Sèche's clean and harmonious arpeggios epitomise the influence of The Durutti Column on the whole of the album.
Back in 1996, Fabien had already left for the UK when this collection of songs raised interest from several labels including Roadrunner Records and Le Village Vert. Fabien finally decided to turn to other musical projects and moved to London to form a new band. In the end, he spent 15 years of his life in the England's capital city.
The remastered original mix of the album is now available for the first time on all streaming and download platforms, 25 years after its initial release.
TRACKLISTING:
01. Aphone de la Nuit 02. Emilie 03. Dans Mon Jardin 04. L'Avariété 05. Aussi Tragique Que L'Enfer 06. Sale Matin 07. Bis 08. Un Monde Egocentré 09. René 10. Panne Sèche
Listen to the album:

Videos :
Aussi Tragique Que L'Enfer